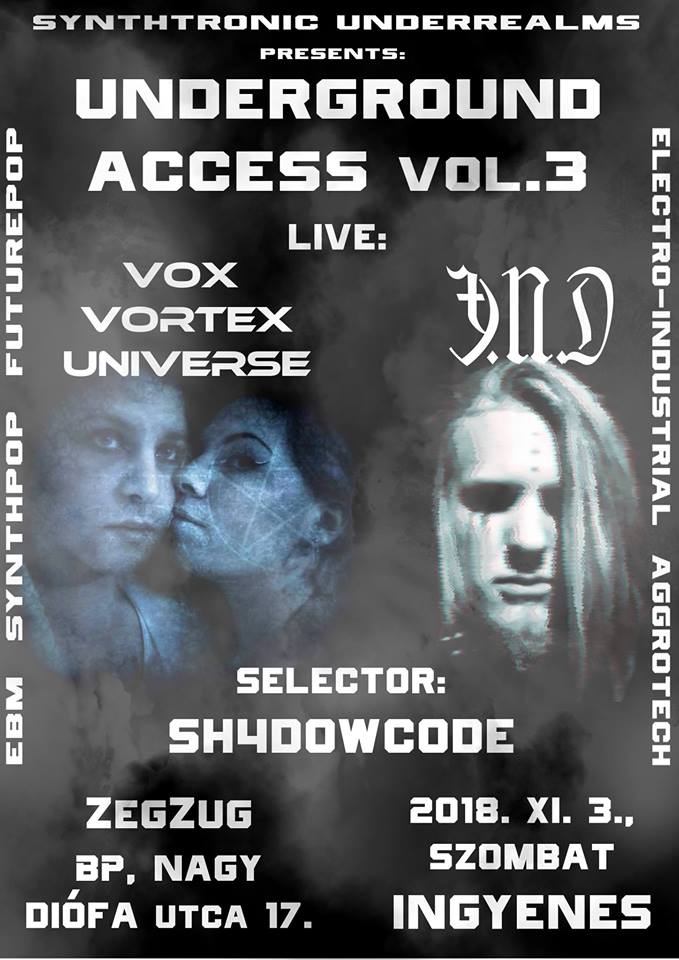 Datum/Zeit
Date(s) - 03.11.2018 - 04.11.2018
22:30 - 2:00
Veranstaltungsort
Zeg Zug
Kategorien
// ENGLISH BELOW //
Kisebb hallgatás után előjövünk az árnyékok közül, hogy a Zeg Zugot bevéve ismét egy fergeteges bulival örvendeztessük meg a műfajok szerelmeseit. Ezúttal két fellépő is tiszteletét teszi, a már ismert Vox Vortex Universe, valamint egy eddig még nem nagyon hallott projekt, a NecrogenesiS – Magyar Industrial Webzine "háziegyüttese", az Ǝ.N.Djelentkezik egy frappáns album bemutatóval. A buli ingyenes, viszont egyúttal becsületkasszás, tehát lehetőségetek van támogatni a fellépőket.
Koncertek előtti/utáni selector: SH4DOWC0DE (S.U. Resident)
Start: 22:30
/////
After a little silence, we'll come out from the shadows and take the Zeg Zug club to give you electroheads another great electro-industrial night. This time 2 hungarian industrial bands will play a fantastic live-act at the party, the Vox Vortex Universe, and the home project of the NecrogenesiS webzine, the 3.N.D The entry is basically free, but this time there will be a honesty box, so you can pay as much as you would like to support the bands.
Music: SYNTH-FUTUREPOP, EBM, ELECTRO-INDUSTRIAL, AGGROTECH, HARSH, NOIZE, etc.
Live:
VOX VORTEX UNIVERSE (HU-GB)
3.N.D (HU)
Before/After music selector: SH4DOWC0DE (S.U. Resident)
The party will be start at 22:30
https://www.facebook.com/voxvortexuniverse/
https://www.facebook.com/3.n.d.ebm/
https://www.facebook.com/synthtronicunderrealms/