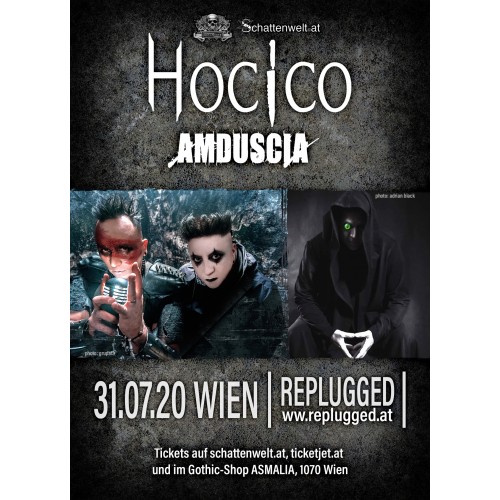 Datum/Zeit
Date(s) - 23.04.2021 - 24.04.2021
19:30 - 3:00
Veranstaltungsort
Replugged
Kategorien
Neuer Termin!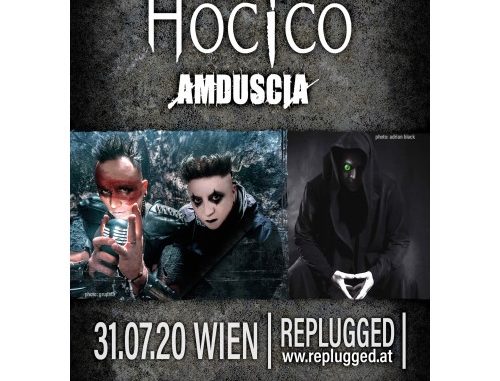 Passend dafür, haben wir 2 hochkarätige Electro/Industrial Acts aus Mexiko eingeladen, welche wir wohl kaum näher vorstellen müssen 😉
Tickets finde ihr bereits ermäßigt im Schattenwelt Shop oder bei Ticketjet.at!*
Sollte das Konzert nicht stattfinden können, bemühen wir uns um einen Ersatztermin innerhalb der nächsten 4 Monate oder erstatten die Tickets zurück.
Sollten nur die Bands aus irgendwelchen triftigen Gründen nicht kommen können, wird es an dem Tag zumindest eine Electronic Fallout Party im Replugged geben!  (inkl. Ticketrückerstattungen und/oder Ersatztermin für das Konzert)
Eine Electronic Fallout Aftershowparty nach dem Konzert wird es wahrscheinlich ebenso geben.
---
» HOCICO (MEX) (Dark Electro/Industrial)
The Mexican Erk Aicrag (lyrics & vocals) and Racso Agroyam (programming) two angry survivors of the physical and mental violence rising daily on the streets of Mexico City, founded the electro band "Hocico"in 1993.
A spider with six legs, which has a H on its back, is the symbol of the both cousins who share their musical experiences
and interests fromtheir childhood. With a Yamaha keyboard Racso began at the age of 15 to experiment.
The correct pronunciation of the name is: "Osziko". That means mouth or jaws. "Hocico" is a pretty aggressive word.
In Mexico it has an offending affect, it's a swearword, like a kind of attack.
"We won't change something or someone. The people should find out alone. We only want to show our personal point of view.
If they agree, good, if not, it's good too. It's better if people think about that themselves." HOCICO
——————————–
AMDUSCIA (Mex)
Amduscia woke up from Hell in the spring of 1999. Polo, Edgar and Raul decided to express in their music the pain, cruelty, madness and rage produced by living in a difficult place, "The real Hell, named Mexico City…"
Amduscia has played in venues around the world and taken part in some of the most important festivals in Europe, such as WaveGotikTreffen (2004) and M'era Luna (2005,2010). Remember: "If you are thirsty to enter a dark and virtual dimension, or maybe just really into music, come here and if, by chance, you can't see who is playing, it is that Amduscia decided it.
In the medieval demonology it is said that there was a duke from hell specially dedicated to music, who could offer a concert without the audience being able to see the instruments being performed. Amduscia transmits on its music the dark side existing in human being and in other entities, reflecting the chaos and aggression we live day by day. With electronic music, technology allows you to witness an entire concert without seeing the instruments being performed, justifying the name "Amduscia."