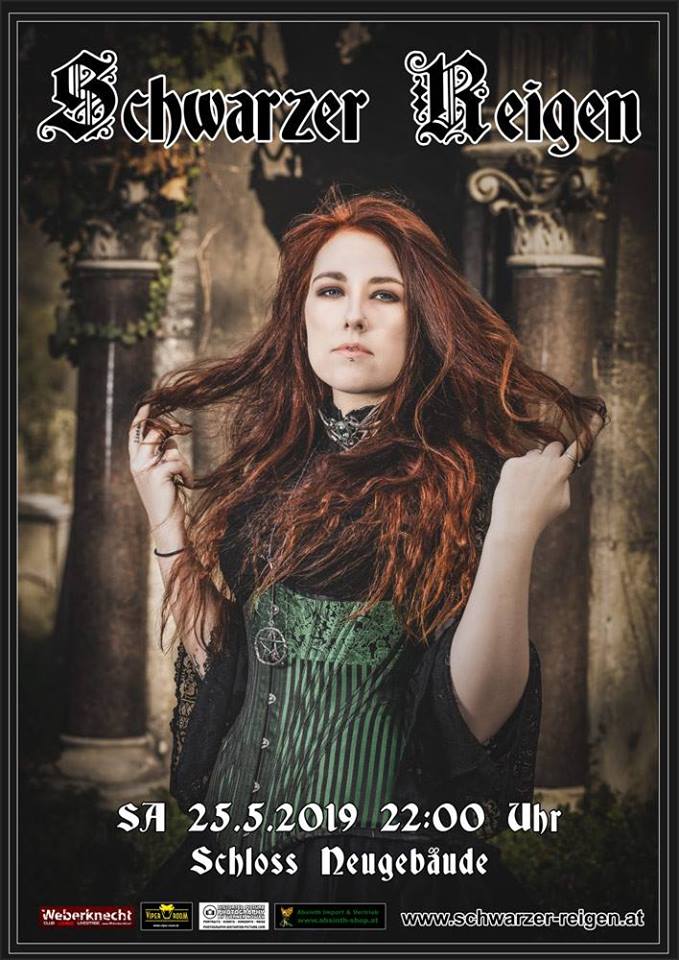 Datum/Zeit
Date(s) - 25.05.2019 - 26.05.2019
22:00 - 5:00
Veranstaltungsort
Schloss Neugebäude
Kategorien
9 DJs auf 3 Floors!
The Red Room – Classic & New Goth-Sounds
——————————————————————————
Goth- & Industrial-Rock – Dark – & New-Wave – Post Punk – Apocalyptic Folk – Martial
DJ Mani (Schwarzer Reigen, Club Mémoire – Gothic & Dark Wave Classics, 80er-Zone)
DJ/VJ Eraserhead (Schwarzer Reigen, Rites Vienna, 80er-Zone )
DJ Avalon (Schwarzer Reigen, Club Memoiré)
The Blue Room – Dark Club- & Electro-Sounds
——————————————————————————
Industrial – E.B.M. – Powernoise – Dark Elektro – 80s – Synth Wave
DJane Valakiia (Graz)
DJ D.A.V.E. (Schwarzer Reigen)
DJ Dust Vienna (Schwarzer Reigen, Weberknecht wird schwarz)
Vingolf – hosted by Kulturverein Veitstanz Österreich – "Feuer, Tanz & Met"
——————————————————————————
Medieval / Medieval-Rock / Irish Folk
Getreu dem Motto "Feuer, Tanz & Met" lädt der Kulturverein Veitstanz Österreich wie schon an zahlreichen Orten zuvor am Schwarzen Reigen zum tanzwütigen Spectakulum.
Neben stimmiger Dekoration und Met im Überfluss lädt das bekannte DJ-Team Metmann, Vagabund & Mortis aus den Bereichen Mittelalter, Mittelalter-Rock und Irish Folk zum Tanz bis der Morgen graut.
Giftraum – Absinthe Chill Out
——————————————————————————
Dark Ambient / Neo Klassik / Post Rock
Eintritt:
VVK 11 € (ca. 1 Monat vorher verfügbar)
Abendkassa: 13 €
Mehr Infos, Fotos, etc. auf http://schwarzer-reigen.at/
Supported by:
——————————————————————————
Absinth Grüne Fee
http://absinth-shop.at/