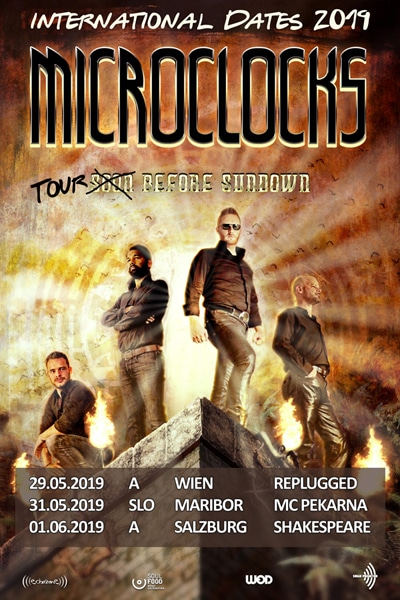 Datum/Zeit
Date(s) - 29.05.2019 - 30.05.2019
19:45 - 3:00
Veranstaltungsort
Replugged
Kategorien
Schattenwelt.at & Electronic Fallout pres:
PULSE (AT)
microClocks (DE)
+ #ElectronicFallout Aftershow party with DJ Mijk de.Stino & DJ Marc Willand
~~~~~~~~~~~~~~~~~~~~~~~~~
⚠️⚠️TICKETS⚠️⚠️
Erhältlich im Vorverkauf im Asmalia Gothic Shop, 1070 Wien, bei unseren Events oder online unter:
https://eventjet.at/ticketjet/event/13071
Single Ticket: € 10.-
Pair Tickets (valid for 2 guests): € 18.-
Group Tickets (valid for 4 guests): € 30.-
Eintritt Party-only: freie Spende!
~~~~~~~~~~~~~~~~~~~~~~~~~
🔴 PULSE (Industrial Cyber Space Metal, Austria)
PULSE was founded as a soloproject from Nemesis beside his Black Metal Band ASTAROTH from Austria in the year 2000.
Fascinated and influenced by the typical synthsounds of the 80s´ and such bands like PAIN, SAMAEL and THE KOVENANT which are trying to mix the style of diffrent genres too, Nemesis´ wish became bigger to create a mix of electronic based music with techno, industriel and metal influences. In fact of the activities of his band ASTAROTH, in 2012 Nemesis reactivated his project PULSE. At the end of 2013 he entered the studio with its mastemind Claus Prellinger to produce his first longplayer entitled "Extinction Level Event".
YT:
https://www.youtube.com/watch?v=wr0hxOL3HxU
Whole album called Extinction Level Event:
https://www.youtube.com/watch?v=4Q-MEA2Uq38
FB:
https://www.facebook.com/PULSEinfo/
~~~~~~~~~~~~~~~~~~~~~~~~~
🔴 MICROCLOCKS (Rock Electronica/Alternative, Germany)
microClocks are from the Ruhr area (Germany). Stylistically, microClocks is rooted in the rock and pop music of the 80s, but likes to snack from the tree of electronica and industrial. Hence, microClocks is far from being a plagiarism of well-known artists.
Powerful guitars, complex arrangements, stomping rhythms and finest synthesizer sounds – with this mixture the last single 'Is Anybody Out There?' jumped to number 8 of the 'German Alternative Charts', followed by news coverage in nearly all relevant scene magazines and daily papers.
Big and small festival and club shows have been performed – from the'M'era Luna' festival in 2014 with headliners like Within Temptation and Marilyn Manson to a tour throughout Germany presented by 'Sennheiser' and 'intro' music magazine.
YT:
https://youtu.be/_BpdnwYIRbk
https://youtu.be/QSA6n5kOCa4
FB:
https://www.facebook.com/microclocks/
~~~~~~~~~~~~~~~~~~~~~~~~~
RUNNING ORDER:
19:45h – Doors
20:15h – microClocks
21:15h – PULSE
22:15h – Velvet Acid Christ
23:30h – After Show Party